Thanks you for reading my first post about Stygian Passage. I hope some members get a chance to check out the show. Its a pretty dark show, so I think im in the right spot

Feel free to leave me a comment, critique, love/hate mail....
Go to
WWW.Myspace.com/StygianPassage
for show info.
and my show download site at
www.StygianPassage.Podomatic.com
Playlist For Stygian Passage 7
--------
THIS IS PAST-LEAVE ME ALONE
CARA NEIR-BITHYNIA
WRAITH OF THE ROPES-THE FIGUREHEAD (THE CURE COVER SONG)
KARJALAN SISSIT-PERACTA MILITIA
PORTAL-WRITHEN
DIAGNOSE LEBENSGEFHAR-THE LAST BREATH OF TELLUS
SLAGMUR-DRAKO GIGANT
GNAW THEIR TONGUES-UTTER FUTILITY OF CREATION
ICE AGES-ICARUS
WORSHIP-KEEP ON SELLING COCAINE TO ANGELS
YOGA-ENCANTE
OF THE WAND AND THE MOON-IN A ROBE OF FIRE
LURKER OF CHALICE-PIERCING WHERE THEY MIGHT
-----
PLEASE GO TO
WWW.STYGIANPASSAGE.PODOMATIC.COM
TO DOWNLOAD PREVIOS SHOWS
AND LOOK FOR MY HALLOWEEN SHOW FEATURING BLACKENED NOISE ARTIST
GNAW THEIR TONGUES
SHOW WILL INCLUDE NEW AND UNRELEASED TRACKS FROM GNAW THEIR TONGUES AS WELL AS DARK AND TWISTED TRACKS SELECTED BY MORIES OF GNAW THEIR TONGUES!!!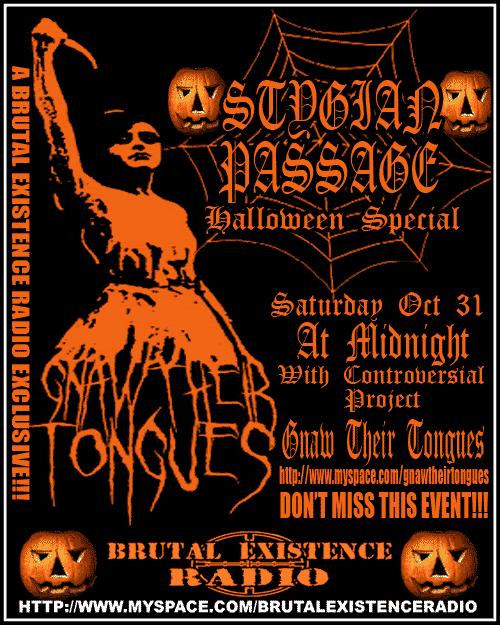 MIDNIGHT...HALLOWEEN...
Show will air on
WWW.BrutalExistenceRadio.com