Biden's 'big [expletive] deal' comment inspires T-shirts, Web sites -- and critics
Vice President Biden's now-infamous comment to President Obama at Tuesday's signing of the historic health-care overhaul (the nation's second-in-command told the commander-in-chief that "This is a big [expletive] deal") has online wits, and critics, working overtime:
• Via Ben Smith, WNYC's Brain Lehrer is soliciting "Biden Haikus" after noticing the veep's phrase was seven syllables -- the length of the middle line of a Haiku.
• Zazzle.com is out with "This is a Big [expletive] Deal" T-shirts.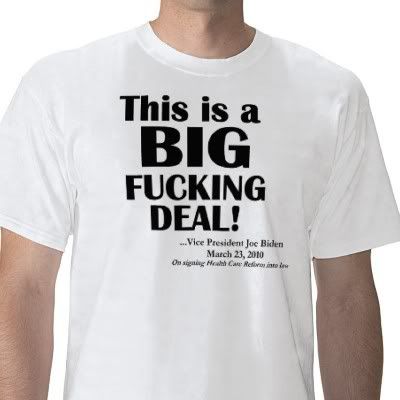 I actually want the coffee mug! - Ben
• Someone launched a Twitter feed from the handle "BigFnDealer," rounding up some of the jokes.
• Another, more graphically inclined wag reinvented a still from the old Schoolhouse Rock cartoon for the "I'm just a bill" civics education song to feature the health-care bill using Biden's words.
• Saturday Night Live's Seth Meyers, who anchors the Weekend Update, tweeted that he loved the veep's comments -- and also Obama's face in reaction.
• And someone implemented a redirect on the unredacted url abig[expletive]deal.com so that it leads right to Biden's bio at the White House.
The sotto voce comment, picked up by a hot mic, also has riled up detractors:
• Newt Gingrich said the comment reflected "the ego level, and the sort of 'look at us, look at us' attitude of this administration."
***
'This is a big f--- deal' shirts for sale
(video at that link)
How fast are Americans when it comes to making a quick buck?
Just hours after Vice President Joe Biden let loose with an F-bomb that was caught by an open microphone prior to President Barack Obama's signing of the health bill into law Tuesday morning, his exact exclamation — "This is a big f— deal" — has already become a T-shirt available for sale in sizes running from S to 6X, The Wall Street Journal's Speakeasy blog reported.
It's unlikely there will be profit-sharing for Biden. Then again, there probably won't be political fallout for the vice president, either. Biden is so gaffe prone that he can basically say whatever he wants at this point and, like a crotchety old relative at a family gathering, people chuckle and chalk it up to Joe being Joe — and make a T-shirt.
What I love is the fact that there are all these people wailing about how this is the end of capitalism, except the capitalists ... who immediately figured out how to make a buck off the thing! LMAO!!! - Ben